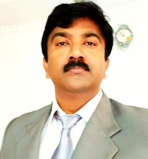 Dr. B.S.V. Ramarao assumed charge as Principal of ASTI on 26 August 2015.
Dr. Ramarao brings in his experience of working at various academic and administrative levels in his 17 years of service, out of which he has worked with the Aurora Group for 13 years. As an academic, he holds two masters degrees, one in engineering and one in management. He obtained his PhD in Mechanical Engineering, awarded by JNTU-H, in October 2017.
His areas of specialization, to name a few, are Advanced Manufacturing Systems, Mechanics, Robotics, Automaton, and Design & Optimization. He has published around 20 research papers in technological journals and conference proceedings, attended and conducted workshops and conferences, guided UG & PG projects in mechanical engineering, and has taught more than 15 subjects in mechanical engineering and MBA several times.
He has been in charge of the exam cell, attendance cell, head of the Mechanical Engineering department, head of the MBA Department, and also held the posts of Deputy Director at Aurora's Technological & Research Institute (ATRI) and Principal at Aurora's Technological & Management Academy (ATMA).
Dr. Ramarao is a fellow of Indian Society of Mechanical Engineers and Indian Society for Engineers and Technicians and an active member of Institute of Mechanical Engineers, International Association of Engineers, and Innovative Scientific Research Professional Malaysia.
His rich and varied experience in both academics and administration gives him astute knowledge of the requirements and potentials of each administrative and academic department in an engineering college.
Principal
Dr. B.S.V. RamaRao