Incharge Principal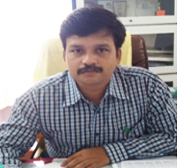 Day to day administration of the College is on the pattern followed by reputed institutions in India and abroad. Principal of the College is B.S.V.RamaRao. The academic administration of the College is vested with the Principal and general administration is with the Management.
The College Council provides the administrative support and advice to the Principal. The council consists of the Principal, Heads of all Engineering Departments, Administrative Assistant and a Faculty representative. Principal is the ex-officio President of the council and the member Secretary is nominated by the Principal.
Prof. B.S.V. Rama Rao assumed charge as Principal of ASTI on 26 August 2015.
Prof. Rama Rao brings in his experience of working at various administrative levels in his 15 years of service, out of which he has worked with the Aurora Group for 10 years. He has been in charge of the exam cell, attendance cell, head of the Mechanical Engineering department, and before he came to ASTI, he held the post of Deputy Director at ATRI. This gives him astute knowledge of the demands of each administrative and academic department in an engineering college.
As an academic, he holds two masters degrees, one in engineering and one in management. He has published conference papers, journal papers, attended and conducted workshops and conferences, guided UG & PG projects in mechanical engineering, and has taught more than 15 subjects in mechanical engineering and MBA several times.
Incharge Principal


Prof. B.S.V. Rama Rao