Celebrations
Independence Day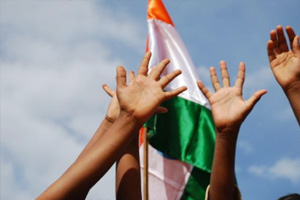 The 15th of August is a very important day in the history of our country - India. It was on this day in 1947 that India became independent. We won freedom after a hard struggle. On this day our first Prime Minister Pundit Jawaharlal Nehru unfurled The National Flag at The Red Fort for the first time. All the people irrespective of their caste, look and creed celebrate this day every year amidst great rejoicing. It is declared a public holiday. On this day we take a pledge to defend our freedom with all our might. The Independence Day is celebrated all over India with great joy. People hold meetings. Fly the tricolor and sing the national anthem. There are great enthusiasms among them.
The struggle for India's Independence began in 1857 with the Sepoy Mutiny in Meerut. Later, in the 20th century, the Indian National Congress and other political organizations, under the leadership of Mahatma Gandhi, launched a countrywide independence movement. Colonial powers were transferred to India on August 15, 1947.
At this day, we commemorate all the great personalities who had played their important role in the independence of India. During the Independence Day celebration, the National Flags are also hosted in school and colleges where many activities are performed by the teachers and students.
---
Republic Day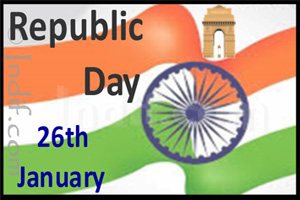 Republic Day is India's great national festival. The Constitution of India has been in effect since January 26, 1950, a date celebrated annually as Republic Day in India. It is a national holiday in India. To mark the importance of this occasion, It is celebrated every year on January 26, in New Delhi with great pomp and pageant and in capitals of the States, as well as at other headquarters and important places with patriotic fervor. The whole nation comes together every year on January 26 to salute the sacrifices and struggles of freedom activists and those who participated in building India's constitution.
To mark the importance of this occasion, every year a grand parade is held in the capital, from the Raisena Hill near the Rashtrapati Bhavan (President's Palace), along the Rajpath, past India Gate and on to the historic Red Fort. The different regiments of the Army, the Navy and the Air Force march past in all their finery and official decorations. The President of India who is the Commander in Chief of the Armed Forces, takes the salute. Patriotic songs are played. Floats (Jhaanki) from all states with colorful vibrancies are displayed. There are cultural performances by the students and professionals. The winners of the gallantry awards also take part in the parade in open jeeps. Kids, who have won National Bravery Awards, join the parade sitting on elephants. Indian Air Force helicopters fly past the parade showcasing their stunts and showering rose petals on the audience beneath.
In many schools colleges and government organizations, the national flag is hoisted early in the morning; followed by cultural programs.
---
Celebration Gallery